Enhanced Website for Richard Blake
Richard Blake Estate Agents have been an established firm of Estate Agents selling property in Dartmouth, Blackawton, Stoke Fleming, Strete, Kingswear and other surrounding villages of Dartmouth in the  Beautiful South Hams for some time. They have quickly become one of the Leading agents in the Town and with his increasing success in the town, the company has grown to now include Lettings and also a new office in Brixham.
New Estate Agents in Brixham
With the New Estate Agent office opening in Brixham, the website needed a few tweaks under the hood so to say in relation to speed, some enhanced visuals, the addition of a Map feature and also the incorporation of their new offices in Brixham to offer the sale and rental of residential property and also commercial property for sale and rent/lease.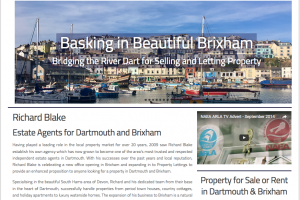 To support the new branch, Facebook, Instagram & Twitter also needed to be enhanced to boost the publicity of the company and its clients properties to people in the areas, not just those looking to buy & sell, but also people that may not so it encourages interest and an appetite to look and see what is available in the area of Brixham and Dartmouth for sale.
DartTech wishes to congratulate Richard Blake Estate Agents – Dartmouth & Brixham on their new acquisition of an office in Brixham and their plans for the rental sector of their business and proud to be able to help them in their digital world of marketing.